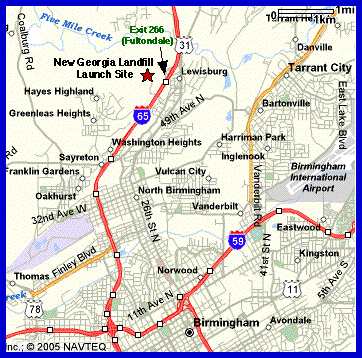 New Georgia Landfill
10:00AM to 4:00 PM.
Notice: that no one is allowed to be at the land fill without there being a scheduled BRB launch. If you have questions please contact one of the BRB officers.
We have a 3,000′ AGL waiver and ask that only A-H motors be flown.
All Rockets will be subject to 3000′ Waiver.
The portion of the New Georgia Landfill that we fly from is reclaimed land, planted with grass. The currently used part of the landfill is farther away to the west and we've not yet had a model drift far enough to land there.
Take I-65 North toward Nashville, TennesseeTake Exit 266 (Fultondale Exit) off of I-65. Go South on Highway 31 to the first traffic light. Turn right (west) onto 47th Ave N. and follow it to the New Georgia Landfill.
Enter through the gate and come past the entry shack / truck scales. Drive a few hundred feet, turn left, and drive a few hundred more feet. The launch site will be to your right. Refer to the close-up map which shows details on how to get to the landfil lsite, including how far to go and wehre to turn after passing the entry shack/scales. GPS users, note the GPS coordinates on that map.